CALLING ALL BUSINESS OWNERS, INFLUENCERS AND SIDE HUSTLERS
DO YOU NEED TO UP YOUR SOCIAL MEDIA GAME, BOOST YOUR FOLLOWERS AND BECOME AN INFLUENCER IN YOUR FIELD?
In Even Less Time And With Better Returns Than Hiring A Social Media Manager?
You know as well as I do that building your online influence whilst running a business, managing day to day life and god-knows-what-else can be a struggle. So I'm going to show you the exact process I follow to make sure I show up every day, stay in momentum and build a consistent revenue stream season to season - without creating 'perfect posts' or becoming a slave to the 'Gram.
A 'fluff free' Business Consultant from Scotland whose pet peeve is bland brands.
Having worked in Business Development at both startup and global level in my 10 year career, I've grown a sixth sense for what works and what doesn't, and now help clients all over the world stand back and look at the bigger picture. But it took me a while to get here.
I was completely invisible during my first attempt to launch 'Health Yourself Happy,' my first health and wellness business.
I had no clients and no money even though I thought I was doing all the right things. I was burning myself out, throwing money away on Facebook Ads which weren't converting and the results unfortunately spoke for themselves.
I hit rock bottom in 2015 – I wasn't just struggling in my business, I'd also moved country and begrudgingly had to take a live-in nanny job just to keep a roof over my head.
When I finally stood back and assessed the situation, it turned out it wasn't my lack of business savvy or know-how keeping me stuck, small and seriously underpaid.
It was my presence.
So I shifted my mindset. As I slowly got back on my feet I started differentiating myself from the competition. As Einstein said 'The definition of insanity is doing the same thing over and over again and expecting different results,' - and I knew deep down that a few things had to change in order to see remarkably different results!
I niched down my business, differentiated myself from the competition and started building a community around my brand.
I got to work and started showing up consistently as an authentic businesswoman and purpose driven influencer.
And I posted on Instagram like it was my job (because, well, it kinda was).
Then finally, after years of trying to crack the social media game, I grew an incredible, loyal tribe, left my 9 to 5 and even landed meetings with some of the worlds most influential business owners.
And now I help business owners all over the world do the same.
Introducing my brand new…
9 TO THRIVE bootcamp
A SOCIAL MEDIA BOOTCAMP FOR SERVICE BASED BRANDS, COACHES & INFLUENCERS WHO ARE READY TO STOP 'WINGING IT' & REBOOT THEIR BUSINESS
This is a 12 week coaching experience to help you bring in the harvest this Autumn. I'll review your business model, industry and niche – to give you personalised coaching on your: marketing principles, business values, sales strategies, services, profile, bio, feed, hashtags, stories, highlights, captions, DM strategies, photography and overall customer journey.

I treat my clients like friends and family and would say I'm more of a partner than a coach. We'll work hard together to achieve the best possible results, with a personalised, fun and effective approach!
WHAT DO YOU GET?
A SECOND SPRING
While Autumn or 'Fall' isn't exactly the start of the new year, people tend to treat it that way. This is because the enjoyment of summer is coming to a close, and for those who have kids, a new school year is beginning. After embracing the summer for what it's known for, we'll utilise the Autumn in the same way, breathing new life into your business and planning your final marketing push of the year.
one to one KICK OFF CALL (45 mins)
We'll dig into the 'big picture' of your business and zoom in on the leaks in your current business model and marketing strategy, including all things social media.
BI-WEEKLY one to one COACHING CALLS (45 mins)
With straight-foward action steps, accountability and ongoing feedback on your progress
a STRESS-FREE HARVEST STRATEGY
Contrary to what other experts may say, I know there's no such thing as a one-size-fits-all-approach on social media. By the end of this Bootcamp you'll have a tailored social media strategy specific to your unique brand and offerings in the lead up to Christmas.
PERSONAL BRAND STRATEGY
People buy people, which is exactly why it's crucial you start showing up as the face of your business.
PERSONALISED GROW & THRIVE STRATEGY
Finally understand how to attract the right followers so you can turn popularity into profits.
MONDAY TO FRIDAY TELEGRAM SUPPORT
Connect with me anytime over Telegram. I'm available every day for motivation, support and guidance - just send me a message or voicenote!
THIS BOOTCAMP IS FOR YOU IF
You have a service based business or personal brand that's currently going nowhere fast.

You feel like you've tried everything to get your social media going. You've posted to your feed everyday, dropped your Insta handle in Facebook groups, and maybe even tried to boost a post or two.

You've tried all the mantras, but you feel that anxiety bubbling… knowing that next month, you'll need to search for leads and clients all over again.

You no longer have time or money to waste on time-sucking activities, like scheduling posts no one will see, redoing your website for the 4th time or watching your 78th webinar...

You feel like friends and family are watching your every move, so it's difficult to put yourself out there and find your voice.

You own an established business, but social media has never seemed like a priority - until now.
Listen to what Courtney has to say over at Health For Freedom
"Don't wait to work with Kate because you'll kick yourself for not starting sooner. The direction and confidence you'll have after just one session is seriously life changing. I don't even know if I would have put myself out there by now if it wasn't for Kate but I have it all: niche, personal brand, logo, website and I know every next step to achieve the results I want!I started with the Masterclass and 1 coaching call. From that I was able to establish my niche and prioritise my first steps. A month later I invested in full coaching. 3 days later I got my first client and made more than my original investment!"
Courtney Cooke @healthforfreedom
Erica Fultz | Elite Matchmaker
"Working with Kate gave me confidence, inspiration and direction. Within just one month of working with her I made back the investment in her programme, and my new business was in profit.

To anyone who is considering working with her, you have to do it! She is happy, encouraging, upbeat, honest and real. Plus she helps you accomplish your goals in a simplified way."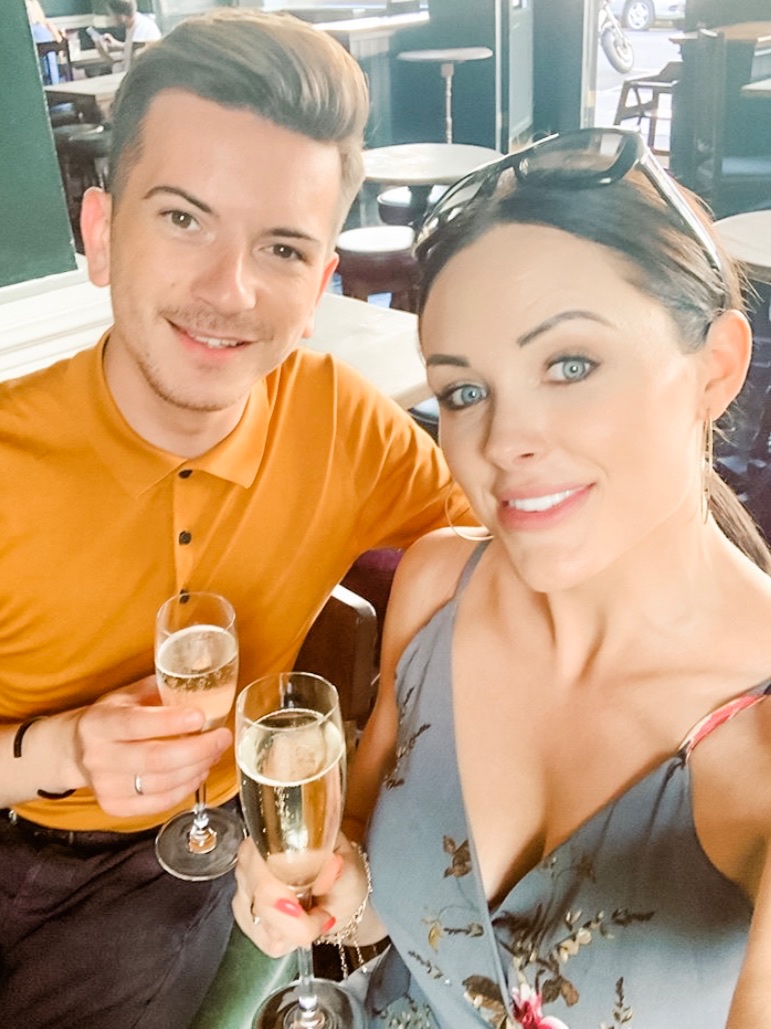 Dallas Waltham | London Real Estate
"Kate has an encyclopaedia of knowledge. She really knows her stuff when it comes to social media and marketing. With her help I have been able to grow my works Instagram page, create a new online market space as well as social media presence. Kate is one the most positive, friendly and knowledgeable people I have come across. With her help I know that I will be making a very big blue ocean with my future ventures! I can't thank you enough Kate. You're golden!"
SO HOW MUCH IS the investment?
I normally charge £2,000 upfront for my signature coaching packages.
However!
To make this accessible to anyone who really needs it, I have decided to offer this special 90 day training programme for 3 monthly instalments of £222, or £599 upfront.
Because I want to help as many people as possible.
grab your spot today (only 10 spots available)
Click the order button and you'll be taken to my secure payment processor. All you have to do is decide if you want to pay upfront or in 3 instalments, and complete your investment today. I'll receive a notification from PayPal with your details, and I'll be in touch to book in your kick off call so you can jump into the Bootcamp straight away.
book a free call
Still have questions? Book a free 20 minute call using the link below to make sure this is the right Bootcamp for you.
includes BONUSES
90 MINUTE INSTAGRAM MASTERCLASS
The perfect way to kick off our coaching, this Masterclass is packed with juicy hacks on how to build your business on Instagram.
sign up today TO LOCK IN -
12 weeks of one to one coaching

Full review of your business values and positioning

A stress-free social media strategy

Full clarity, support and guidance moving into a brand new season in business

Bespoke growth strategy

Bespoke marketing strategy

Personal brand strategy

Telegram support (Mon-Fri)

Bonus Masterclass
Don't let the opportunity to finally banish that digital marketing stress slip away from you. Remember you're getting all of this today for just 3 instalments of £222 per month or £599 upfront. All you have to do is hit the order button below and get ready for your Second Spring.
Remember, there are just 10 spots available so either book a call, or enter your details on my secure payment page to complete your investment.
Here's to your supercharged season, continual success and effortless productivity.